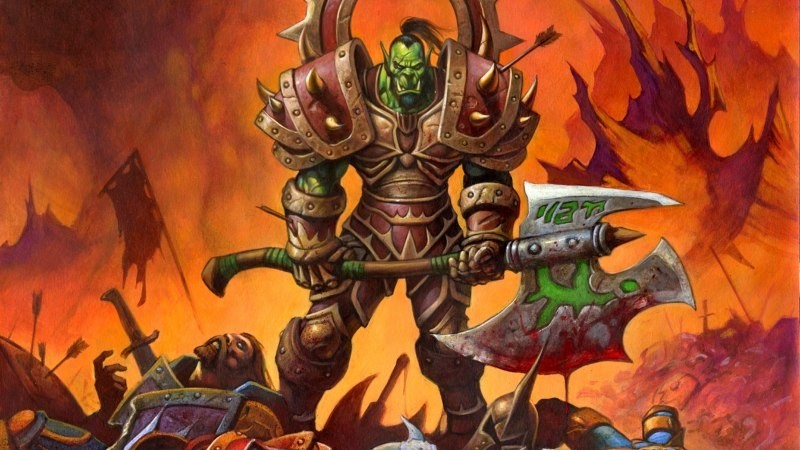 Author: darkspy13
MoP Protection Warrior Guide – Gearing Up and Best in Slot
---
General Information
This page is a gearing up guide for Protection Warriors. It is updatedfor World of Warcraft MoP 5.4. It first presents the best in slot itemsbefore listing, slot by slot, all the items, with a level higher than 346,that you can acquire in the game. We also explain how you will be competingfor loot with other classes.
The other pages of our Protection Warrior guide can be accessedfrom the table of contents on the right.
1. Best in Slot Advice
With the advent of Thunderforged and Warforged weapons, BiS lists are muchless valuable a resource than before, because we would be advising a list of itemsthat not even the best players would have a chance to complete. Instead, we nowgive you advice for choosing your trinkets, your set bonuses, and whatever elseis important for your class.
As a Protection Warrior, most performance enhancing upgrades "per slot" will be your Shield and Trinkets.The shield itself offers the biggest source of armor on your gear and will present a pretty significantupgrade even if its stats are not the ones you prioratise.
For your shield, choose Shield of Mockery if you are gearing for Avoidance or Bulwark of the Fallen General if you are gearing for Critical Strike. Even if the statson your shield do not suit your gearing strategy, upgrading the shield based on item levelwill always be a good choice.
For your trinkets, we offer you the following advice.
Apart from certain trinkets, your Main-Hand weapon, will be the biggestincrease to your DPS. You should make your choice based on the weapons that dropfor you and their item level. Most strength-based one-handed weapons will do the job.
Your Tier 15 set bonuses were not very good, so you should drop them as soonas you get gear with better item level.
The Tier 16 2-piece bonusis decent in theory, although you will notice that the effective healing received from it is not significant.
The Tier 16 4-piece bonuswill give you extra rage once Demoralizing Shout expires, however its potential is unfortunately random —n certain situations it will overcap your rage, while in others it will leave you dry.
Should you focus in gearing towards Best in Slot, you will eventually drop your set bonuses so thatyou can equip Warforged alternatives in respective slots.
If you are gearing for Critical Strike, then the best off-set piece is the Legs item.
If you are gearing for Avoidance, then you can choose your off-set piece from amongst:Chest, Hands, or Shoulders.
2. Gearing Up
When gearing up, we advise you to always prioritise pieces of Tier sets over non-set pieces of higher item level.
In each table, the items are ranked by item level and then alphabetically.
2.1. Head
2.2. Amulet
Level
Item
Source(s)
450
Bladesnap Neck
Greater Cache of Treasures and Greater Cache of Treasures
450
Bubblebrew Necklace
Greater Cache of Treasures and Greater Cache of Treasures
450
Lavasoul Collar
Greater Cache of Treasures and Greater Cache of Treasures
450
Reflection of the Sea
created by Reflection of the Sea (requires Jewelcrafting 575)
450
Stormcrier Choker
Greater Cache of Treasures and Greater Cache of Treasures
450
Whirling Dervish Choker
Kuai the Brute in Mogu'shan Palace, Ming the Cunning in Mogu'shan Palace, and Haiyan the Unstoppable in Mogu'shan Palace, Legacy of the Clan Leaders (Mogu'shan Palace)
450
Widow Chain
created by Widow Chain (requires Jewelcrafting 575)
458
Gorget of Usurped Kings
1250 from Commander Lo Ping (

A

/

H

) in Townlong Steppes and Jaluu the Generous (

A

/

H

) in Vale of Eternal Blossoms
463
Armsmaster's Sealed Locket
Armsmaster Harlan in Scarlet Halls
463
Necklace of the Dark Blaze
Lilian Voss in Scholomance, Coffer of Forgotten Souls (Scholomance)
463
Whirling Dervish Choker
Kuai the Brute in Mogu'shan Palace, Ming the Cunning in Mogu'shan Palace, and Haiyan the Unstoppable in Mogu'shan Palace, Legacy of the Clan Leaders (Mogu'shan Palace)
476
Beads of the Mogu'shi
Jasper Guardian in Mogu'shan Vaults, Jade Guardian in Mogu'shan Vaults, Amethyst Guardianin Mogu'shan Vaults…
476
Brewcarrier Choker
Greater Cache of Treasures and Greater Cache of Treasures
476
Brewfather Necklace
Greater Cache of Treasures and Greater Cache of Treasures
476
Buc-Zakai Memento
Aroc Stonebeak in Krasarang Wilds, Lingering Corruption in Siege of Orgrimmar, Instructor Tak'thok in Heart of Fear…
476
Firebinder Collar
Greater Cache of Treasures and Greater Cache of Treasures
476
Lightning Rod Neck
Greater Cache of Treasures and Greater Cache of Treasures
480
Shard of Pirouetting Happiness
Apothecary Hummel in Shadowfang Keep
483
Kaolan's Withering Necklace
Protector Kaolan in Terrace of Endless Spring, Elder Regail in Terrace of Endless Spring, and Elder Asani in Terrace of Endless Spring
483
Necklace of Congealed Weaknesses
Garalon in Heart of Fear
489
Beads of the Mogu'shi
Jasper Guardian in Mogu'shan Vaults, Jade Guardian in Mogu'shan Vaults, Amethyst Guardianin Mogu'shan Vaults…
489
Bloodseeker's Solitaire
1250 from Ambersmith Zikk (

A

/

H

) in Dread Wastes and Commander Oxheart (

A

/

H

) in Townlong Steppes
489
Paragon's Pale Pendant
1250 from Ambersmith Zikk (

A

/

H

) in Dread Wastes and Commander Oxheart (

A

/

H

) in Townlong Steppes
496
Amaranthine Necklace
created by Create Lavalliere
496
Cliffbreaker Choker
created by Create Lavalliere
496
Elder Tortoiseshell Gorget
created by Create Lavalliere
496
Kaolan's Withering Necklace
Elder Regail in Terrace of Endless Spring, Elder Asani in Terrace of Endless Spring, and Protector Kaolan in Terrace of Endless Spring
496
Kiln-Stoker Collar
created by Create Lavalliere
496
Mushan Rider's Collar
Galleon in Valley of the Four Winds
496
Necklace of Congealed Weaknesses
Garalon in Heart of Fear and Garalon in Heart of Fear
496
Saddlebinder Links
Galleon in Valley of the Four Winds
496
Warmsun Choker
created by Create Lavalliere
502
Beads of the Mogu'shi
Jasper Guardian in Mogu'shan Vaults, Jade Guardian in Mogu'shan Vaults, Amethyst Guardianin Mogu'shan Vaults…
502
Hydraskull Choker
Flaming Head in Throne of Thunder, Frozen Head in Throne of Thunder, and Venomous Headin Throne of Thunder
502
Moonjade Necklace
Suen in Throne of Thunder and Lu'lin in Throne of Thunder
502
Necklace of the Terra-Cotta Protector
Lei Shen's Burial Trove (…), Stormtouched Cache, Treasures of the Thunder King…
502
Necklace of the Terra-Cotta Vanquisher
Lei Shen's Burial Trove (…), Treasures of the Thunder King, Stormtouched Cache…
502
Talisman of Angry Spirits
Sul the Sandcrawler in Throne of Thunder, Frost King Malakk in Throne of Thunder, High Priestess Mar'li in Throne of Thunder…
503
Kaolan's Withering Necklace
Protector Kaolan in Terrace of Endless Spring, Elder Regail in Terrace of Endless Spring, and Elder Asani in Terrace of Endless Spring
509
Kaolan's Withering Necklace
Elder Asani in Terrace of Endless Spring, Elder Regail in Terrace of Endless Spring, and Protector Kaolan in Terrace of Endless Spring, Unclaimed Black Market Container
509
Necklace of Congealed Weaknesses
Garalon in Heart of Fear and Garalon in Heart of Fear, Unclaimed Black Market Container
516
Doubtcrusher Neck
Heroic Cache of Treasures and Bulging Heroic Cache of Treasures
516
Heartlander's Necklace
Heroic Cache of Treasures and Bulging Heroic Cache of Treasures
516
Kaolan's Withering Necklace
Elder Regail in Terrace of Endless Spring, Elder Asani in Terrace of Endless Spring, and Protector Kaolan in Terrace of Endless Spring
516
Mist Splitter's Choker
Heroic Cache of Treasures and Bulging Heroic Cache of Treasures
516
Sha-Seeker Collar
Heroic Cache of Treasures and Bulging Heroic Cache of Treasures
516
Thunder Bastion Neck
Heroic Cache of Treasures and Bulging Heroic Cache of Treasures
522
Hydraskull Choker
Flaming Head in Throne of Thunder, Frozen Head in Throne of Thunder, and Venomous Headin Throne of Thunder, Cache of Ancient Treasures (Throne of Thunder)
522
Lootraptor's Amulet
Oondasta
522
Moonjade Necklace
Suen in Throne of Thunder and Lu'lin in Throne of Thunder
522
Necklace of the Terra-Cotta Protector
Weisheng in Throne of Thunder, Lightning Guardian in Throne of Thunder, Farraki Sand Conjurer in Throne of Thunder…, Spoils of the Thunder King
522
Necklace of the Terra-Cotta Vanquisher
Monara in Throne of Thunder, Drakkari Frost Warden in Throne of Thunder, Sand Elemental in Throne of Thunder…, Spoils of the Thunder King
522
Striker's Battletags
825 from Ao Pye (

A

/

H

) in Townlong Steppes and Teng of the Flying Daggers (

A

/

H

) in Isle of Thunder
522
Talisman of Angry Spirits
Sul the Sandcrawler in Throne of Thunder, Frost King Malakk in Throne of Thunder, High Priestess Mar'li in Throne of Thunder…
522
Vanguard's Battletags
825 from Ao Pye (

A

/

H

) in Townlong Steppes and Teng of the Flying Daggers (

A

/

H

) in Isle of Thunder
528
Blackfuse's Blasting Cord
Siegecrafter Blackfuse in Siege of Orgrimmar
528
Choker of the Final Word
Vault of Forbidden Treasures (Siege of Orgrimmar)
528
Hydraskull Choker
Cache of Ancient Treasures (Throne of Thunder)
528
Juggernaut's Ignition Keys
Iron Juggernaut in Siege of Orgrimmar
528
Malkorok's Tainted Dog Tags
Malkorok in Siege of Orgrimmar
528
Moonjade Necklace
Suen in Throne of Thunder
528
Necklace of the Terra-Cotta Protector
Bow Fly Swarm in Throne of Thunder, Zandalari Storm-Caller in Throne of Thunder, Sand Elemental in Throne of Thunder…
528
Necklace of the Terra-Cotta Vanquisher
Bore Worm in Throne of Thunder, Eternal Guardian in Throne of Thunder, Sand Elemental in Throne of Thunder…
528
Talisman of Angry Spirits
High Priestess Mar'li in Throne of Thunder
535
Amaranthine Necklace
created by Create Lavalliere
535
Cliffbreaker Neck
created by Create Lavalliere
535
Elder Tortoiseshell Neck
created by Create Lavalliere
535
Hydraskull Choker
Flaming Head in Throne of Thunder, Frozen Head in Throne of Thunder, and Venomous Headin Throne of Thunder, Cache of Ancient Treasures (Throne of Thunder) and Unclaimed Black Market Container
535
Kiln-Stoker Collar
created by Create Lavalliere
535
Moonjade Necklace
Suen in Throne of Thunder and Lu'lin in Throne of Thunder, Unclaimed Black Market Container
535
Talisman of Angry Spirits
Sul the Sandcrawler in Throne of Thunder, Frost King Malakk in Throne of Thunder, High Priestess Mar'li in Throne of Thunder…, Unclaimed Black Market Container
535
Warmsun Choker
created by Create Lavalliere
540
Blackfuse's Blasting Cord
Siegecrafter Blackfuse in Siege of Orgrimmar
540
Choker of the Final Word
Vault of Forbidden Treasures (Siege of Orgrimmar)
540
Juggernaut's Ignition Keys
Iron Juggernaut in Siege of Orgrimmar
540
Malkorok's Tainted Dog Tags
Malkorok in Siege of Orgrimmar
541
Hydraskull Choker
Cache of Ancient Treasures (Throne of Thunder)
541
Moonjade Necklace
Suen in Throne of Thunder
541
Talisman of Angry Spirits
High Priestess Mar'li in Throne of Thunder
553
Blackfuse's Blasting Cord
Siegecrafter Blackfuse in Siege of Orgrimmar
553
Choker of the Final Word
Vault of Forbidden Treasures (Siege of Orgrimmar) and Vault of Forbidden Treasures (Siege of Orgrimmar)
553
Juggernaut's Ignition Keys
Iron Juggernaut in Siege of Orgrimmar
553
Malkorok's Tainted Dog Tags
Malkorok in Siege of Orgrimmar
559
Anafielle's Spiked Choker
Ordos in Timeless Isle
559
Blackfuse's Blasting Cord
Siegecrafter Blackfuse in Siege of Orgrimmar
559
Bladeforger Necklace
Ordos in Timeless Isle
559
Choker of the Final Word
Vault of Forbidden Treasures (Siege of Orgrimmar)
559
Juggernaut's Ignition Keys
Iron Juggernaut in Siege of Orgrimmar
559
Malkorok's Tainted Dog Tags
Malkorok in Siege of Orgrimmar
566
Blackfuse's Blasting Cord
Siegecrafter Blackfuse in Siege of Orgrimmar
566
Choker of the Final Word
Vault of Forbidden Treasures (Siege of Orgrimmar), Vault of Forbidden Treasures (Siege of Orgrimmar), and Vault of Forbidden Treasures (Siege of Orgrimmar)
566
Juggernaut's Ignition Keys
Iron Juggernaut in Siege of Orgrimmar
566
Malkorok's Tainted Dog Tags
Malkorok in Siege of Orgrimmar
572
Blackfuse's Blasting Cord
Siegecrafter Blackfuse in Siege of Orgrimmar
572
Choker of the Final Word
Vault of Forbidden Treasures (Siege of Orgrimmar)
572
Juggernaut's Ignition Keys
Iron Juggernaut in Siege of Orgrimmar
572
Malkorok's Tainted Dog Tags
Malkorok in Siege of Orgrimmar
2.3. Shoulders
Level
Item
Source(s)
450
Bladesnap Pauldrons
Greater Cache of Treasures and Greater Cache of Treasures
450
Bladesworn Shoulders
The Mariner's Revenge (Dread Wastes)
450
Contender's Revenant Shoulders
created by Contender's Revenant Shoulders (requires Blacksmithing 575)
450
Jinyu-Forged Pauldrons
Greater Cache of Treasures and Greater Cache of Treasures
450
Masterwork Spiritguard Shoulders
created by Masterwork Spiritguard Shoulders (requires Blacksmithing 575)
450
Spaulders of Immovable Stone
Wing Leader Ner'onok in Siege of Niuzao Temple
463
Serpentstrike Shoulderpads
Liu Flameheart in Temple of the Jade Serpent
463
Spaulders of Immovable Stone
Wing Leader Ner'onok in Siege of Niuzao Temple
463
Vigorsteel Spaulders
Darkmaster Gandling in Scholomance
476
Lightning Rod Pauldrons
Greater Cache of Treasures and Greater Cache of Treasures
476
Shoulderguards of the Unflanked
Zian of the Endless Shadow in Mogu'shan Vaults, Meng the Demented in Mogu'shan Vaults, Qiang the Merciless in Mogu'shan Vaults…
476
Spaulders of the Scorned
Forgemaster Vul'kon in Isle of Thunder, Kor'thik Warsinger in Heart of Fear, Zar'thik Augurer in Heart of Fear…
476
Yaungolian Pauldrons
Greater Cache of Treasures and Greater Cache of Treasures
483
Pauldrons of the Broken Blade
Blade Lord Ta'yak in Heart of Fear
483
Shoulderguards of Resounding Rings
1 Shoulders of the Shadowy Protector from Commander Oxheart (

A

/

H

) in Townlong Steppes
483
Shoulderpads of Misshapen Life
Amber-Shaper Un'sok in Heart of Fear
489
Shoulderguards of the Unflanked
Meng the Demented in Mogu'shan Vaults, Zian of the Endless Shadow in Mogu'shan Vaults, Qiang the Merciless in Mogu'shan Vaults…
489
Shoulders of Autumnlight
1750 from Commander Oxheart (

A

/

H

) in Townlong Steppes and Jaluu the Generous(

A

/

H

) in Vale of Eternal Blossoms
496
Cliffbreaker Pauldrons
created by Create Shoulders and Unlock Armor Cache
496
Elder Tortoiseshell Pauldrons
created by Create Shoulders and Unlock Armor Cache
496
Everbright Pauldrons
created by Create Shoulders and Unlock Armor Cache
496
Pauldrons of the Broken Blade
Blade Lord Ta'yak in Heart of Fear
496
Shoulderguards of Resounding Rings
1 Shoulders of the Shadowy Protector from Commander Oxheart (

A

/

H

) in Townlong Steppes
496
Shoulderpads of Misshapen Life
Amber-Shaper Un'sok in Heart of Fear
502
Metabolically Boosted Shoulderplates
Primordius in Throne of Thunder
502
Reconstructed Bloody Shoulderplates
Tortos in Throne of Thunder, Durumu the Forgotten in Throne of Thunder, Iron Qon in Throne of Thunder…
502
Reconstructed Furious Shoulderplates
Tortos in Throne of Thunder, Durumu the Forgotten in Throne of Thunder, Iron Qon in Throne of Thunder…
502
Shoulderguards of the Last Mogu
1 Shoulders of the Crackling Protector from Ao Pye (

A

/

H

) in Townlong Steppes and Teng of the Flying Daggers (

A

/

H

) in Isle of Thunder
502
Shoulderguards of the Unflanked
Meng the Demented in Mogu'shan Vaults, Zian of the Endless Shadow in Mogu'shan Vaults, Qiang the Merciless in Mogu'shan Vaults…
509
Pauldrons of the Broken Blade
Blade Lord Ta'yak in Heart of Fear
509
Shoulderguards of Resounding Rings
1 Shoulders of the Shadowy Protector from Commander Oxheart (

A

/

H

) in Townlong Steppes
509
Shoulderpads of Misshapen Life
Amber-Shaper Un'sok in Heart of Fear
516
Doubtcrusher Pauldrons
Heroic Cache of Treasures and Bulging Heroic Cache of Treasures
516
Lightning Pillar Pauldrons
Heroic Cache of Treasures and Bulging Heroic Cache of Treasures
516
Thunder Bastion Pauldrons
Heroic Cache of Treasures and Bulging Heroic Cache of Treasures
522
Grievous Gladiator's Plate Shoulders
1750 from Acon Deathwielder (

A

/

H

) in Kun-Lai Summit and Ethan Natice (

A

/

H

) in Valley of the Four Winds
522
Metabolically Boosted Shoulderplates
Primordius in Throne of Thunder
522
Reconstructed Bloody Shoulderplates
Primordius in Throne of Thunder, Lei Shen in Throne of Thunder, Ji-Kun in Throne of Thunder…, Cache of Ancient Treasures (Throne of Thunder)
522
Reconstructed Furious Shoulderplates
Horridon in Throne of Thunder, Primordius in Throne of Thunder, Durumu the Forgottenin Throne of Thunder…, Cache of Ancient Treasures (Throne of Thunder)
522
Shoulderguards of the Last Mogu
1 Shoulders of the Crackling Protector from Ao Pye (

A

/

H

) in Townlong Steppes and Teng of the Flying Daggers (

A

/

H

) in Isle of Thunder
522
Sparksmasher Pauldrons
1000 0 0 from Ao Pye (

A

/

H

) in Townlong Steppes and Teng of the Flying Daggers(

A

/

H

) in Isle of Thunder
528
Darkfallen Shoulderplates
Rook Stonetoe in Siege of Orgrimmar, He Softfoot in Siege of Orgrimmar, and Sun Tenderheart in Siege of Orgrimmar
528
Krugruk's Rigid Shoulderplates
Galakras in Siege of Orgrimmar
528
Metabolically Boosted Shoulderplates
Primordius in Throne of Thunder
528
Pauldrons of Violent Eruption
Tears of the Vale (Siege of Orgrimmar)
528
Reconstructed Bloody Shoulderplates
Tortos in Throne of Thunder, Horridon in Throne of Thunder, Dark Animus in Throne of Thunder…
528
Reconstructed Furious Shoulderplates
Lei Shen in Throne of Thunder, Horridon in Throne of Thunder, Tortos in Throne of Thunder…
528
Shoulderguards of the Prehistoric Marauder
1 Shoulders of the Cursed Protector from Blizzix Sparkshiv (

A

/

H

) in Shrine of Two Moons and Welbiz Cheerwhistle (

A

/

H

) in Shrine of Seven Stars
528
Spaulders of the Fallen Warchief
Garrosh Hellscream in Siege of Orgrimmar
535
Cliffbreaker Pauldrons
created by Create Shoulders
535
Elder Tortoiseshell Pauldrons
created by Create Shoulders
535
Everbright Pauldrons
created by Create Shoulders
535
Metabolically Boosted Shoulderplates
Primordius in Throne of Thunder
535
Reconstructed Bloody Shoulderplates
Tortos in Throne of Thunder, Jin'rokh the Breaker in Throne of Thunder, Primordius in Throne of Thunder…
535
Reconstructed Furious Shoulderplates
Durumu the Forgotten in Throne of Thunder, Tortos in Throne of Thunder, Horridon in Throne of Thunder…
535
Shoulderguards of the Last Mogu
1 Shoulders of the Crackling Protector from Ao Pye (

A

/

H

) in Townlong Steppes and Teng of the Flying Daggers (

A

/

H

) in Isle of Thunder
540
Darkfallen Shoulderplates
Rook Stonetoe in Siege of Orgrimmar, He Softfoot in Siege of Orgrimmar, and Sun Tenderheart in Siege of Orgrimmar
540
Krugruk's Rigid Shoulderplates
Galakras in Siege of Orgrimmar
540
Pauldrons of Violent Eruption
Tears of the Vale (Siege of Orgrimmar)
540
Shoulderguards of the Prehistoric Marauder
1 Shoulders of the Cursed Protector from Nadina Stargem (

A

/

H

) in Shrine of Two Moons and Thelett Shaleheart (

A

/

H

) in Shrine of Seven Stars
540
Spaulders of the Fallen Warchief
Garrosh Hellscream in Siege of Orgrimmar
541
Metabolically Boosted Shoulderplates
Primordius in Throne of Thunder
541
Reconstructed Bloody Shoulderplates
Tortos in Throne of Thunder, Horridon in Throne of Thunder, Durumu the Forgotten in Throne of Thunder…
541
Reconstructed Furious Shoulderplates
Tortos in Throne of Thunder, Horridon in Throne of Thunder, Durumu the Forgotten in Throne of Thunder…
553
Darkfallen Shoulderplates
Rook Stonetoe in Siege of Orgrimmar, He Softfoot in Siege of Orgrimmar, and Sun Tenderheart in Siege of Orgrimmar
553
Krugruk's Rigid Shoulderplates
Galakras in Siege of Orgrimmar
553
Pauldrons of Violent Eruption
Tears of the Vale (Siege of Orgrimmar) and Tears of the Vale (Siege of Orgrimmar)
553
Shoulderguards of the Prehistoric Marauder
1 Shoulders of the Cursed Protector from Clarice Chapmann (

A

/

H

) in Shrine of Seven Stars and Ki'agnuu (

A

/

H

) in Shrine of Two Moons
553
Spaulders of the Fallen Warchief
Garrosh Hellscream in Siege of Orgrimmar
553
Tusks of Mannoroth
Garrosh Hellscream in Siege of Orgrimmar
559
Darkfallen Shoulderplates
Sun Tenderheart in Siege of Orgrimmar
559
Krugruk's Rigid Shoulderplates
Galakras in Siege of Orgrimmar
559
Pauldrons of Violent Eruption
Tears of the Vale (Siege of Orgrimmar) and Tears of the Vale (Siege of Orgrimmar)
559
Rossi's Rosin-Soaked Shoulderplates
Ordos in Timeless Isle
559
Spaulders of the Fallen Warchief
Garrosh Hellscream in Siege of Orgrimmar
559
Starry Spaulders of Durability
Ordos in Timeless Isle
566
Darkfallen Shoulderplates
Rook Stonetoe in Siege of Orgrimmar, He Softfoot in Siege of Orgrimmar, and Sun Tenderheart in Siege of Orgrimmar
566
Krugruk's Rigid Shoulderplates
Galakras in Siege of Orgrimmar
566
Pauldrons of Violent Eruption
Tears of the Vale (Siege of Orgrimmar), Tears of the Vale (Siege of Orgrimmar), and Tears of the Vale (Siege of Orgrimmar)
566
Shoulderguards of the Prehistoric Marauder
1 Shoulders of the Cursed Protector from Lorry Warmheart (

A

/

H

) in Shrine of Seven Stars and Tu'aho Pathcutter (

A

/

H

) in Shrine of Two Moons
566
Spaulders of the Fallen Warchief
Garrosh Hellscream in Siege of Orgrimmar
566
Tusks of Mannoroth
Garrosh Hellscream in Siege of Orgrimmar
572
Darkfallen Shoulderplates
Sun Tenderheart in Siege of Orgrimmar
572
Krugruk's Rigid Shoulderplates
Galakras in Siege of Orgrimmar
572
Pauldrons of Violent Eruption
Tears of the Vale (Siege of Orgrimmar) and Tears of the Vale (Siege of Orgrimmar)
2.4. Cloak
Level
Item
Source(s)
450
Blade-Dulling Greatcloak
Priestess Laralla in Krasarang Wilds, Instructor Tak'thok in Heart of Fear, Gearmage Astalonin Dalaran…
450
Bladesnap Drape
Greater Cache of Treasures and Greater Cache of Treasures
450
Bubblebrew Cloak
Greater Cache of Treasures and Greater Cache of Treasures
450
Lavasoul Cloak
Greater Cache of Treasures and Greater Cache of Treasures
450
Stormcrier Cloak
Greater Cache of Treasures and Greater Cache of Treasures
450
Stormscale Drape
created by Stormscale Drape (requires Leatherworking 550)
458
Cloak of the Silent Mountain
1250 from Commander Lo Ping (

A

/

H

) in Townlong Steppes, Sage Lotusbloom (

A

/

H

) in Shrine of Two Moons, and Sage Whiteheart (

A

/

H

) in Shrine of Seven Stars
458
Crafted Dreadful Gladiator's Cloak of Prowess
created by Crafted Dreadful Gladiator's Cloak of Prowess (requires Tailoring 550)
463
Cloak of Failing Will
Sha of Doubt in Temple of the Jade Serpent
463
Phantasmal Drape
Jandice Barov in Scholomance
463
Soulrender Greatcloak
Thalnos the Soulrender in Scarlet Monastery
476
Brewcarrier Cloak
Greater Cache of Treasures and Greater Cache of Treasures
476
Brewfather Cloak
Greater Cache of Treasures and Greater Cache of Treasures
476
Crafted Malevolent Gladiator's Cloak of Prowess
created by Crafted Malevolent Gladiator's Cloak of Prowess (requires Tailoring 600)
476
Firebinder Cloak
Greater Cache of Treasures and Greater Cache of Treasures
476
Lightning Rod Drape
Greater Cache of Treasures and Greater Cache of Treasures
476
Zom's Rain-Stained Cloak
Zar'thik Supplicant in Heart of Fear, Tormented Initiate in Siege of Orgrimmar, Enslaved Bonesmasher in Heart of Fear…
480
Icebound Cloak
Ahune in The Slave Pens, Ice Chest (The Slave Pens)
483
Cloak of Raining Blades
Wind Lord Mel'jarak in Heart of Fear
483
Daybreak Drape
Cache of Tsulong (Terrace of Endless Spring)
489
Cloak of the Dark Disciple
1250 from Commander Oxheart (

A

/

H

) in Townlong Steppes and Rushi the Fox (

A

/

H

) in Townlong Steppes
489
Yi's Cloak of Courage
1250 from Commander Oxheart (

A

/

H

) in Townlong Steppes and Rushi the Fox (

A

/

H

) in Townlong Steppes
496
Amaranthine Cloak
created by Create Cloak
496
Cliffbreaker Drape
created by Create Cloak
496
Cloak of Raining Blades
Wind Lord Mel'jarak in Heart of Fear
496
Cloak of the Immortal Guardian
1250 from Vasarin Redmorn (

A

/

H

) in Isle of Thunder
496
Cloak of the Immortal Guardian
1250 from Hiren Loresong (

A

/

H

) in Isle of Thunder
496
Daybreak Drape
Cache of Tsulong (Terrace of Endless Spring)
496
Elder Tortoiseshell Drape
created by Create Cloak
496
Kiln-Stoker Cloak
created by Create Cloak
496
Tyrannical Gladiator's Cloak of Prowess
1250 from Hayden Christophen (

A

/

H

) in Valley of the Four Winds
496
Tyrannical Gladiator's Cloak of Prowess
Nalak, Unclaimed Black Market Container
496
Tyrannical Gladiator's Cloak of Prowess
1250 from Lok'nor Bloodfist (

A

/

H

) in Kun-Lai Summit
496
Warmsun Cloak
created by Create Cloak
502
Beakbreaker Greatcloak
Tortos in Throne of Thunder
502
Horn-Rimmed Doomcloak
Horridon in Throne of Thunder
502
Reinforced Mirror-Sheen Cloak
Durumu the Forgotten in Throne of Thunder
509
Cloak of Raining Blades
Wind Lord Mel'jarak in Heart of Fear, Unclaimed Black Market Container
509
Daybreak Drape
Cache of Tsulong (Terrace of Endless Spring) and Unclaimed Black Market Container
516
Doubtcrusher Drape
Heroic Cache of Treasures and Bulging Heroic Cache of Treasures
516
Heartlander's Cloak
Heroic Cache of Treasures and Bulging Heroic Cache of Treasures
516
Mist Splitter's Cloak
Heroic Cache of Treasures and Bulging Heroic Cache of Treasures
516
Sha-Seeker Cloak
Heroic Cache of Treasures and Bulging Heroic Cache of Treasures
516
Thunder Bastion Drape
Heroic Cache of Treasures and Bulging Heroic Cache of Treasures
522
Beakbreaker Greatcloak
Tortos in Throne of Thunder
522
Grievous Gladiator's Cloak of Prowess
Chi-Ji in Timeless Isle, Xuen in Timeless Isle, Niuzao in Timeless Isle…, 1250 from Doris Chiltonius (

A

/

H

) in Kun-Lai Summit and 1250 from Roo Desvin (

A

/

H

) in Kun-Lai Summit
522
Grievous Gladiator's Cloak of Prowess
Chi-Ji in Timeless Isle, Xuen in Timeless Isle, Niuzao in Timeless Isle…, 1250 from Armsmaster Holinka (

A

/

H

) in Valley of the Four Winds and 1250