PVE WotLK Destruction Warlock DPS Guide (Short)
---
Welcome to our PVE Destruction Warlock guide for WoW WotLK. This guide will show you what you need to know to play the Warlock class as Destruction. If you follow this build you should be at the top of the DPS chart in no time!
Talents
Destruction Warlocks have two main specs. With this first build, you just stand still and cast your spells. Soul Leech and Improved Soul Leech will keep you at full health and mana the entire time. You won't have to rely on Life Tap and will be constantly pumping out DPS.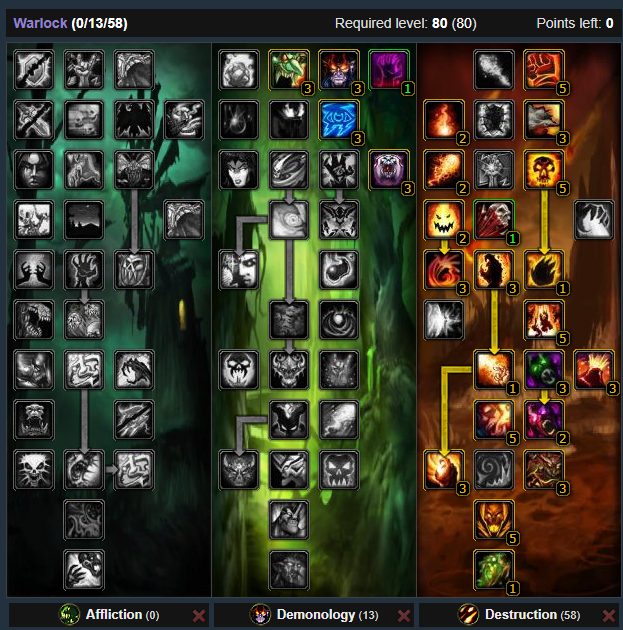 The second build works better in fights with a lot of movement. This build doesn't take Soul Leech or Improved Soul Leech because Unholy Power is better when you have to move a lot. You will be using Life Tap to get mana back while moving.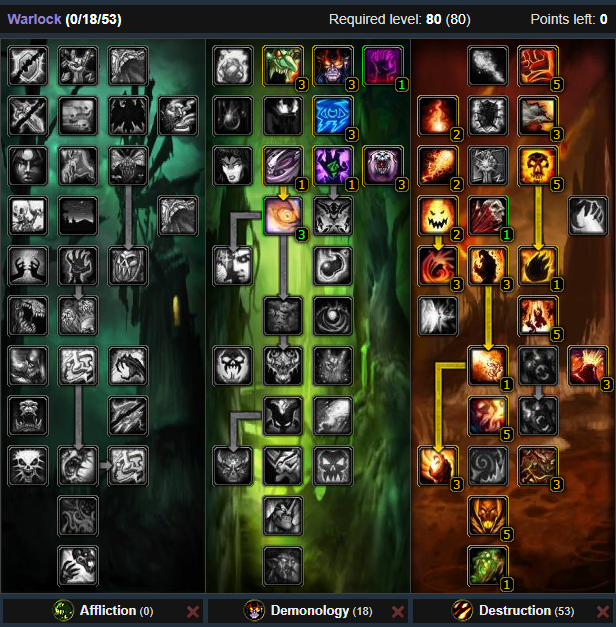 Glyphs
Major Glyphs
Minor Glyphs
Gems
Gems can change based on your build, equipment and caps. You may need to adjust your gems to account for your gear.
Enchants
You may need to adjust your enchants based on your gear but these are the standard enchants.
Stat Priority
Hit (17% cap)
Spell Power
Haste
Critical Strike
Rotation
Keep Curse of the Elements or Curse of Doom on the target at all times. You use Curse of Doom if you have an Unholy Death Knight or Moonkin in your group. Otherwise you use Curse of the Elements.
Imp is your best pet. He deals the most damage and the builds above both have Empowered Imp which gives us a 100% chance to crit after he crits.