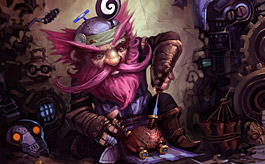 Author: Dallas
Vanilla Engineering Guide (1-300)
Classic Engineering Guide
---
This Vanilla WoW Engineering guide can help you from 1 to 300 Engineering. With a little patience you should be level 300 Engineering in no time!
Let's start off with the materials needed for leveling to 300.
Materials
Rough Stone x 61
Copper Bars x 131
Linen Cloth x 51
Weak Flux x 30
Bronze Bars x 90
Wool Cloth x 50
Medium Leather x 20
Heavy Stone x 75
Iron Bars x 59
Silk Cloth x 10
Silver Bars x 20
Steel Bar x 4
Solid Stone x 80
Mithril Bars x 80
Mageweave Cloth x 10
Dense Stone x 40
Thorium Bars x 70
Rune Cloth x 10
Now that we have all of the materials, these are the things you need to craft to reach 300 Engineering. Some skills turn yellow before hitting the desired level and the numbers may be off by a point or two due to good/bad luck.
1-41
Rough Blsting Powder x 60
41-55
Handful of Copper Bolts x 70 (you will need 70 all up)
make an Arclight Spanner x 1
55-75
Rough Copper Bomb x 20
75-91
Copper Tube x 10
91-111
Copper Modulator x 15
111-121
Practise Lock x 10
121-135
Bronze Tube x 10
135-151
Whirring Bronze Gizmo x 10
151-171
Bronze Framework x 20
Heavy Blasting Power x 75
171-185
Explosive Sheep x 10
Silver Contact x 20
185-195
Iron Grenades x 10
195-211
Big Iron Bomb x 15 (Keep for Goblin Engineering)
Gyromatic Micro-Adjustor x 1
Solid Blasting Powder x 40
211-235
Hi-Impact Mithril Slugs x 10
235-241
Unstable Trigger x 10
241-255
Mithril Casing x 20
255-261
Dense Blasting Powder x 20
261-271
Hi-Explosive Bomb x 10
271-289
Thorium Widget x 10
289-300
Thorium Shells x 10
Trainers:
Apprentice 1 – 75: Any Major City
Journeyman 50 – 150: Any Major City
Expert 125 – 225: (Alliance) = Springspindle Fizzlegear in Ironforge
                        (Horde) = Roxxik (Orgrimmar)
Artisan 225 – 300: Buzzek Bracketswing (Tanaris)