WotLK PVE Frost Death Knight DPS Guide (Quick)
---
Welcome to our Frost Death Knight DPS guide for WoW WotLK. This guide will show you what you need to know to play the Death Knight class as Frost.
Talents
This is the popular Frost DK build. This build really starts to shine as your gear improves.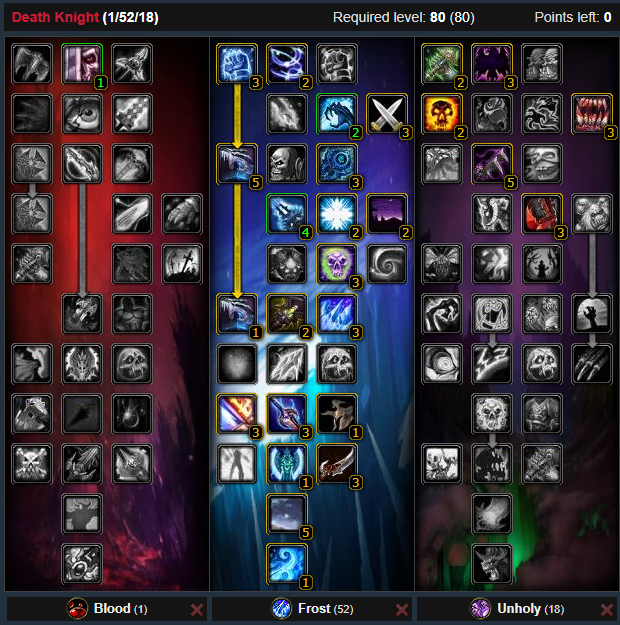 These 4 talents can be adjusted based on your gear and/or raid setup.
Glyphs
Major Glyphs
Minor Glyphs
Gems
Gems can change based on your build, equipment and caps. You may need to adjust your gems to account for your gear.
Enchants
You may need to adjust your enchants to your gear.
Stat Priority
Hit (5% with Nerves of Cold Steel)
Expertise (26)
Strength
Armor Penetration
Critical Strike
Haste
Attack Power
Agility
Rotation
Opener
Icy Touch -> Plague Strike -> Obliterate -> Frost Strike -> Blood Strike -> Pestilence -> Horn of Winter
Frost Strike -> Obliterate -> Obliterate -> Frost Strike -> Obliterate -> Frost Strike -> Obliterate
Rotation
Frost Strike -> Obliterate -> Obliterate -> Frost Strike -> Blood Strike -> Pestilence
Frost Strike -> Obliterate -> Obliterate -> Frost Strike -> Obliterate -> Frost Strike
Ability Priority